Soundspace is a new radio-based installation series for Freeform Portland focused on recontextualizing radio as a space for new modes of listening, hosted by sound artists Samson Stilwell (who played the second Foreign Accents show ever at Turn! Turn! Turn! in October, thank you Samson!) and Ben Glas. Each month a new sound artist installs an exploratory piece to the airwaves for you to mull over, get lost in, and whatever else works. The series, which meets every other Sunday from noon to 2pm, is live-streamed at Beacon Sound, but the general idea is that the broadcasting medium puts the concept of a sonic installation tied to a specific locality in a new, far more flexible cast.

The first installation for Soundspace was Roarke Menzies' Anamnesis Study: The Little Bell, a loop-based ambient piece which I caught on November 6th from the comfort of home. Roarke's broadcast, which manipulated an obscure recording of a Russian folk song to highly evocative effect, was a real pleasure to hear not least because of my admiration for his new album Corporeal. In December, Soundspace featured Eli Coplan's piece Substractive Synthesis, which I sadly missed. This show is not being archived at the moment. See, this is why you really need to tune in!
I recently got the chance to have a brief but illuminating chat with Samson and Ben about the project over email. Have a look-see:
How did the two of you meet? What was the impetus for SOUNDSPACE?
S: We met through a radio show I did called Nocturne. I had heard Ben's work through a mutual friend (Roarke Menzies) and invited him to perform on the show. Nocturne aired from 4-6 in the morning and it was Ben's birthday. It was very romantic.
B: The inspiration to start Soundspace came from a series of conversations that Samson and I had about the possibility of transmission art and ephemeral space. When Nocturne ended we felt a desire to continue radio-based experiments and further question modes of listening and experiencing. 
What is SOUNDSPACE "about"? What kind of considerations do you both make in curating the series?
S: Soundspace is an attempt to turn the radio in on itself, to consider the radio as holding space, as well as a an opportunity to showcase sound artists we admire. We consider our by-monthly transmissions as radio installations. The tuning in and out of a radio frequency acts as a way to interact, to enter or exit the radio installation. Using this framework the Soundspaceartists have created work that really utilizes the radio as a site-specific mode of listening.
What kinds of possible proclivities/biases do you guys think you may show?
B: I definitely see a leaning towards open and aleatoric structures, as opposed to set-in-stone or seemingly serialist compositions. There is an urge to mimic the show's experimental nature through the content.
I was not present at Beacon Sound for Anamnesis Study: The Little Bell, but I listened to the entirety of the piece and was really mesmerized by its evocation of memory. Tell me about how you guys got in contact with Roarke and about your interpretation of the installation. Was the first broadcast the first time you had heard the piece yourselves?
S: I heard Roarke's work for the first time about a year ago when he came to play a show in Portland. I missed the show (which oddly enough Ben was also performing at) but listened to his record Corporeal and loved it. I invited him to do a guest mix for Nocturne. Then we became pals!
B: And yes; the first we heard the piece was when it was first presented on air. It was a pleasant and beautiful surprise! My interpretation of the composition, in conjunction with the writing, was definitely nostalgic; I felt a deep longing for a moment in time that can be described by no words I know.
S: At one point in the piece the original recording, which gets warped and reworked by Roarke's complex electronic processing, becomes almost morse code like; the pulsing signal is so precise with wordless meaning, reaching back for itself, reaching for the moment of the recording and yet knowing it will never fully be able to reach it. It's sad but fitting that the piece was only audible twice when we aired it and now disappeared. That is unless Roarke uses it for something else.
Your latest broadcast was of an installation by Eli Coplan. If you were asked to make a succinct introduction to his work for someone unfamiliar, what would you say?
B: I would say that Eli's installation for Soundspace was very much focused on networks and the grey area presented by radio broadcast technology.
S: Eli opened Soundspace to the wider radio, feeding back different radio signals into the Freeform Bandwidth and filtering and manipulating them through an open source software called Pure Data which Eli wrote a patch for. Networks within networks.
What is on the docket for this coming January?
B: Max Wolf (formerly Schneider) is on for New Years day (Really excited to see how Max goes about installing!) and
S: Lutfi Othman, a sound artist living and working in London, is installing his piece The Sculptural Adhan which is truly beautiful and you gotta hear it!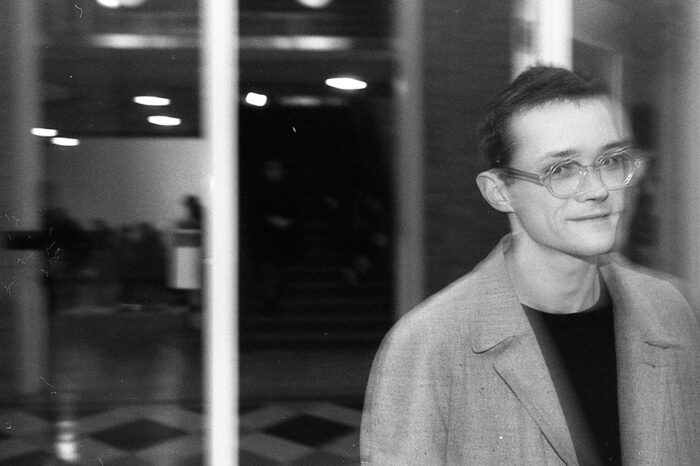 What kinds of hopes and anxieties do you both have for 2017?
S: That art finds purpose and beauty. That the world isn't ruined beyond repair. And for compassion.
B: My hopes for 2017 and the rest of 2016 are for some deep healing on a National, Global and introspective level. And for simple and loving growth for everyone. Anxieties: that the masses won't be silent and listen to each other's ideas or fears (or Soundspace).
Tune in to 90.3 FM on Sunday January 1st for some work Max Wolf. I saw him perform with Ben for a series entitled Shortspace in October of 2015, as well as with my friends at Sanctuary Sunday and SIX, so this ought to get interesting. Happy listening.
Photo Credits (top to bottom):
Tessa Bolsover
Xander Marrow