Become a Freeform Portland Volunteer!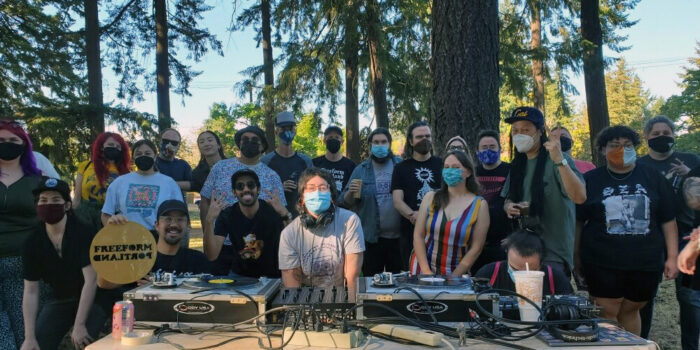 Freeform Portland, KFFP-LP 90.3 FM & KFFD-LP 98.3 FM is a nonprofit, volunteer-run community radio station providing a number of public resources. Interested in becoming a Freeform Portland volunteer? Our volunteers gain job skills, learn about music, and meet new people all while giving back to their communities. It's a great opportunity for people with a little bit of free time and a lot to gain. Our volunteer committees power the station in the following ways:
Broadcast Operations
Equity, Diversity & Inclusion
Events
Freeform Portland Blog
Fundraising & Marketing
Merchandise
Music Library
Promos and Carts
Social Media
Volunteer
Website
Zine
Read more about each committee below, and fill out our KFFP Volunteer Contact Form to be contacted by a member of our Volunteer Committee.
Broadcast Operations
The Operation Committee's responsibilities include maintaining the station's transmitter, turntables, microphones, wiring, and everything else that counts as broadcasting equipment. Members also collect and organize supplies for KFFP office operations.
Equity, Diversity and Inclusion
The Equity, Diversity and Inclusion Committee works on policy, promotion, outreach and training at Freeform. Our goal is to help Freeform be a welcoming and equitable organization that empowers historically marginalized and underrepresented voices in radio. We are also a safe space to discuss social justice issues and raise awareness of those issues both inside and outside the station.
Events
The Events Committee plans and puts on shows, parties, DJ nights, and other events that help bring much-needed funds to KFFP.
Freeform Portland Blog
The Freeform Blog is 100% music-focused platform hosted on the freeformportland.org website. Freeform blog editors look for a wide range of content including musician profiles, interviews, essays, short fiction, poems, art, and anything else as long as it relates to music.
Fundraising & Marketing
The Fundraising & Marketing Committee works to raise community awareness of–and much-needed funds for–our all-volunteer community radio station. Grant writers obtain a large portion of Freeform Portland's financial support by soliciting grants from donor organizations, so good letter-writers should apply!
Merchandise
The Merchandise Committee develops, markets, and distributes Freeform Portland merch, such as t-shirts, pins, koozies, and more.
Music Library
The Music Library Committee keeps the music library stocked, organized, and in good working condition. Music Library Committee volunteers send music requests to record labels as well as label & organize new additions to the Freeform Portland music library.
Promos and Carts
The Promos and Carts Committee is responsible for organizing the production of Freeform Portland's pre-recorded Legal IDs and on-air promos and making them accessible for DJ use.
Social Media
The Freeform Portland Social Media Committee uses various social media platforms to promote the station, our on-air programming, events, happenings, and values as a station. This is our main outward communication to the community at large.
Volunteer
Freeform Portland is 100% volunteer-powered and we always need new volunteers! This committee is dedicated to recruiting, welcoming, engaging with, and supporting volunteers by helping them discover where they can be the most comfortable and effective. Want to find your place at Freeform? Ask the Volunteer Committee!
Website
The Web Committee is a group of volunteer web developers, content managers, infrastructure engineers, UI/UX designers, and other interested folks who keep Freeform Portland's online presence and web applications running and growing.
Zine
The Zine Committee solicits and creates art and copy for the Freeform Portland zine, and then publishes and distributes it.
---
Volunteering with us is a requirement for all of our on-air DJs. Don't want to be on the air? No problem! Not everyone does, and we can still use your help. To learn more about volunteering with us, fill out the Freeform Portland Volunteer Contact Form or email volunteer@freeformportland.org. Freeform Portland also accepts donations!