It's week 2 here at the Worst Song Ever bracket and things have heated up. After a lot of back and forth, the current leader is "Friday" by Rebecca Black.  If you've somehow gone through life without ever hearing this song or seeing the amazing video, please do yourself a favor and enjoy the following (and please note it has over 107 MILLION views):
It also produced one of my favorite gifs, of the awkward tween with braces dancing nervously in the car: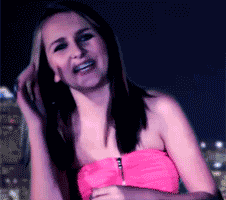 Here is the current Top Ten (with my choice of lyrics from each):
1. "Friday" Rebecca Black
Kickin' in the front seat
Sittin' in the back seat
Gotta make my mind up
Which seat can I take
2. "Barbie Girl" Aqua
I'm a blond bimbo girl, in a fantasy world
Dress me up, make it tight, I'm your dolly
3. "All Star" by Smash Mouth
She was looking kind of dumb with her finger and her thumb
In the shape of an "L" on her forehead
4. "Who Let the Dogs Out?" Baha Men
A doggy is nuttin' if he don't have a bone
All doggy hold ya' bone, all doggy hold it
5. "Pretty Fly (For a White Guy)" the Offspring
Our subject isn't cool
But he fakes it anyway
6. "It's a Small World" Disney
It's a small world after all,

it's a small world after all
It's a small world after all,

it's a small, small, small, small world
7. "My Own Prison" Creed
Alone I drop and kneel
Silence now the sound
My breath the only motion around
Demons cluttering around
8. "(You're) Having My Baby" Paul Anka
Having my baby
What a lovely way of saying
What you're thinking of me
9. "Cotton Eye Joe" Rednex
Where did you come from, where did you go?
Where did you come from, Cotton-Eye Joe?
10. "Blurred Lines" Robin Thicke
I hate these blurred lines
I know you want it
I know you want it
I know you want it
It appears that "Sweet Child O'Mine" by Guns n' Roses is the least disliked in this poll, as it has sat on or near the bottom pretty consistently since it began, so congrats to Axl and Slash and the gang.
"MacArthur Park" continues to be close to the bottom.  Everyone, you know that's being sung by Dumbledore 1.0 Richard Harris, right?  And that it includes the lyrics:
MacArthur's Park is melting in the dark
All the sweet, green icing flowing down
Someone left the cake out in the rain
I don't think that I can take it
'Cause it took so long to bake it
And I'll never have that recipe again
Oh no!
SCTV did a pretty great sketch about this song, starring Eugene Levy and Dave Thomas:
All of the songs in the Top Ten are from the last 20 years, except for Paul Anka's "(You're) Having My Baby" which has persevered as being the oldest most hated song since the beginning. It was recorded in 1974, making it older than most people who have filled out this bracket—think about it: You could have been conceived to this song.  Ms. magazine gave Anka their "Male Chauvinistic Pig of the Year" award for this piece of garbage.  In the song he says:
Didn't have to keep it
Wouldn't put you through it.
You could have swept it from your life
But you wouldn't do it
No
You wouldn't do it.
And you're having my baby.
Whoa dude. Whoa.
Finally, the most lopsided voting has been for the following:
"Hotel California" (23 votes) vs "Cotton Eyed Joe" (118 votes)
"Sweet Child O' Mine" (22 votes) vs "Escape (the Pina Colada Song)" (103 votes)
"It's a Small World" Disney (99 votes) vs "Mockingbird" Carly Simon and James Taylor (29 votes)
Don't agree with your fellow voters? Haven't voted yet? Click here to make your voice heard as we continue the month of voting for the worst song ever!