Do you have an itch that only live, local music can scratch? There's plenty going on in Portland between now and next Saturday, and dj zen_hound has put together an extensive (yet still not complete!) list of events and live performances to inform you of the who, where, and when.

(Assume, unless "ALL AGES" is specified, that a given event is 21+)
Saturday 9/17
Kal Marks, Sea Moss, Mouthbreather
The Firkin Tavern (1937 SE 11th Ave)
for fans of: noise rock, indie rock, heavy rock, experimental music
---
Drooler, How Strange It Is, Johnny Raincloud
The Fixin' To (8218 N Lombard St)
for fans of: indie rock, powerpop, garage rock, pop rock
---
Dawn of Ouroboros, Vesuvian, Burial Clouds
Hawthorne Hideaway (2221 SE Hawthorne Blvd)
for fans of: progressive metal, black metal, power metal, doom metal
---
Great Falls, Blistering Joy, Netherrealms
High Water Mark Lounge (6800 NE Martin Luther King Jr Blvd)
for fans of: noise rock, post-hardcore, sludge metal, noise metal
---
Ogre, Fawn, Easy Bruiser
No Fun (1709 SE Hawthorne Blvd)
for fans of: noise rock, math rock, post-punk, emo, pop punk
---
Boris, Nothing
Revolution Hall (1300 SE Stark St) ALL AGES
for fans of: heavy rock, doom, drone, shoegaze, grunge, experimental
---
Kadie Rae, Harrison Rapp, Lauren Joyce, Patrick Egan
Turn! Turn! Turn! (8 NE Killingsworth St)
for fans of: singer-songwriter
---
Monday 9/19
Escuela Grind, Test, Worms, Lesser Animal
High Water Mark Lounge (6800 NE Martin Luther King Jr Blvd)
for fans of: grindcore, hardcore punk, death metal
---
Tuesday 9/20
Call The Cops, The Pawns, Contact
No Fun (1709 SE Hawthorne Blvd)
for fans of: punk rock, hardcore punk
---
mclusky, Conan Neutron & The Secret Friends
Revolution Hall (1300 SE Stark St) ALL AGES
for fans of: noise rock, post-hardcore, heavy rock, post-punk
---
Wednesday 9/21
Russian Circles, REZN
Revolution Hall (1300 SE Stark St) 21+
for fans of: post-rock, heavy psych, doom metal
---
Thursday 9/22
XTR Human, Graveyard Gossip, Lies We Were Told
The Coffin Club (421 SE Grand Ave)
for fans of: goth rock, post-punk, electronic body music, synth pop
---
Wölflaut, Die Like Gentlemen, Nyxora
Dante's (350 W Burnside St)
for fans of: sludge metal, stoner rock, doom metal, heavy rock
---
Help!, Lorbo, Uukwuuk
High Water Mark Lounge (6800 NE Martin Luther King Jr Blvd)
for fans of: punk rock, noise rock, noise punk, hardcore punk, experimental rock
---
Gepetto, Mygoons, Dusty Fox
No Fun (1709 SE Hawthorne Blvd)
for fans of: hip hop, rap, alternative hip hop, underground hip hop
---
Friday 9/23
Nite Hike, Perimeters, Public Pleasure (Songs From Under the Floorboard Showcase)
Black Water Bar (835 NE Broadway)
for fans of: post-punk, dance rock, synth pop, indie pop
---
Deathcharge, New Skeletal Faces, Shrouds, Temple (Nocturnal Goth Deathrock Fest 2022)
The Coffin Club (421 SE Grand Ave)
for fans of: goth rock, post-punk, death rock, darkwave
---
Mars Red Sky, Greenbeard, Greenseeker
High Water Mark Lounge (6800 NE Martin Luther King Jr Blvd)
for fans of: psych rock, stoner doom, heavy metal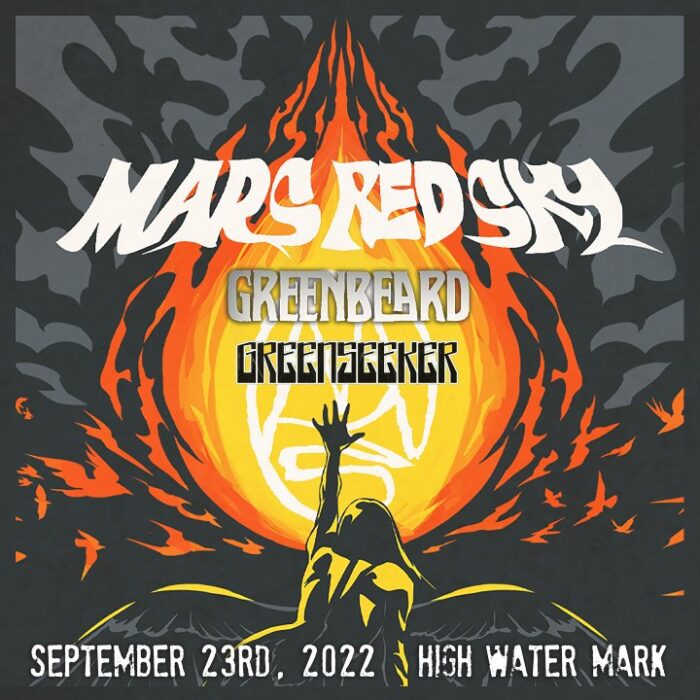 ---
Posthumous Regurgitation, Abhorrency, Bicephalic, Mazaroth
Kenton Club (2025 N Kilpatrick St)
for fans of: grindcore, goregrind, death metal, black metal
---
Backseat Plastic, Martian Church, Disbeware
Misdemeanor Meadows (6920 SE 52nd Ave)
for fans of: punk rock, hardcore punk
---
Desperate Electric, Mawlee Jones Band, Golden Boy
No Fun (1709 SE Hawthorne Blvd)
for fans of: R&B, indie pop, indie folk, alternative country
---
Ben Böhmer
The North Warehouse (723 N Tillamook St)
for fans of: deep house, progressive house, tech house, dance, electronica
---
Dreckig, Gata Galactica, King Rumba, Sonido Dead Steady (Cumbialandia)
Star Theater (13 NW 6th Ave)
for fans of: krautrock, cumbia, electropop, afrobeat, psychedelia
---
Spiee, Letras, Sic Bloom, Joe Von Appen
Zer0 Wave (720 N Killingsworth St) ALL AGES
for fans of: experimental music, musique concrète, sound collage, ?????
---
Saturday 9/24
Reek Minds, Open Veins, Myconid
Black Water Bar (835 NE Broadway)
for fans of: crust punk, hardcore punk, d-beat, grindcore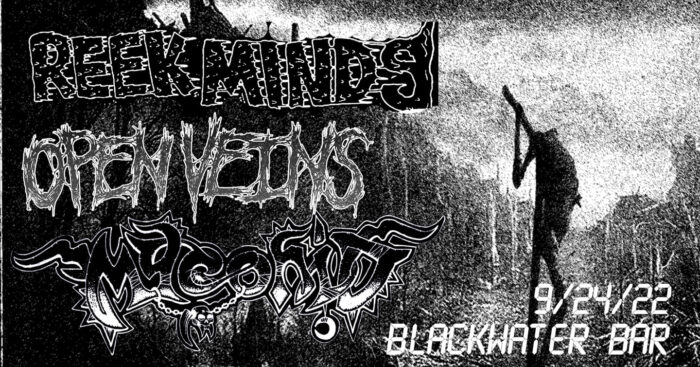 ---
Nox Novacula, Datura, Vueltas, Visions (Nocturnal Goth Deathrock Fest 2022)
The Coffin Club (421 SE Grand Ave)
for fans of: goth rock, death rock, post-punk. anarcho-punk, darkwave
---
EYEHATEGOD, ACxDC (Antichrist Demoncore), Savage Master, Rank And Vile
Dante's (350 W Burnside St)
for fans of: sludge metal, grindcore, powerviolence, heavy metal, death metal
---
Hell Fire, Screamer, Destructive Impulse
High Water Mark Lounge (6800 NE Martin Luther King Jr Blvd)
for fans of: thrash metal, speed metal, heavy metal
---
Hovering Shrikes, Penny Wishes, Heirloom Monsters
Lay Low Tavern (6015 SE Powell Blvd)
for fans of: post-punk, alt rock, new wave, indie rock
---
Lo Fives, Dry Wedding, Frantarctica
The Six Below Midnight (3341 SE Belmont St)
for fans of: goth rock, post-punk, post-hardcore, experimental rock
---
So get out there and have some fun! Remember to be safe, and remember that many venues will require you to have a mask and/or proof of vaccination. So be prepared, otherwise you might be in for a harsh realm and get denied entry and end up being a bound-and-hagged lamestain on your weekend! (I read in the New York Times thirty years ago that these were real words that the kids were using, I'm just trying to fit in.)
Keep Portland Feared!
-dj zen_hound
host of WHOA THIS IS HEAVY 2-4pm Friday