Here is an interview I conducted with Vic Godard, who has been referred to by BBC6 Deejay Marc Riley as "The Greatest Living Englishman." Godard has been a near constant in British music since 1976, when he formed the band, Subway Sect. As a singer/songwriter, he has released solo work and has also collaborated with the likes of: Mark Perry, Irvine Welch, The Sexual Objects, & The Bitter Springs. Godard has his own record label, GNU Inc., and is a busy and creative artist.

Noah Fence: Mr. Godard, thanks for agreeing to this interview. In doing some research for this interview, I realized that I do not know much about your life prior to being in the band, Subway Sect. I would love to hear about your life growing up and your musical influences.

Vic Godard: I had a great time as a kid and was into Geography and Football. That was because of my uncle Don, who was a postman and a Chelsea fan. His delivery was in Bond Street and then he went on the TPO (Travelling Post Office) to Scotland, staying overnight in Glasgow before returning to King's Cross the following day. He could easily have been on the train that was robbed by Biggs and co, but was lucky. He taught me all the counties of Scotland before I had a chance to go to school!  My Grandad was a Bus driver on routes out of Mortlake Garage (9 and 73), starting in 1922 until 1966, two years before he died. He was also the Union Treasurer. He took me to White Hart Lane in Tottenham to watch my first football matches — where we stood alongside Peter Cook behind the goal at the Paxton End — but when my uncle took me to Chelsea, I felt that was my place. Compared to Spurs, Chelsea weren't very glamorous in those days and Spurs had recently been the first team to 'do the double,' ie win the League and Cup the same season.
Then they did a tour playing exhibition matches at Holiday Camps! They came to the camp we went to every year and my dad was in the Holiday Camp team so he played against them– unfortunately breaking his collarbone during the match.  We did get the team to sign their autographs though, which we still have buried away somewhere.
My sister is 8 years older than me, so the 60's were Mods and Rockers and we didn't think much of Rockers. When I got a bit older we called them "Greasers" or "Grebos." Teds didn't exist, as they'd grown up and got married by then, later re-appearing in the 70's. These new Teds were often sons or nephews of the original ones. When Punk was in, some of my mates went Ted including my cousin, but I couldn't do their dance.
I hated Elvis, The Mersey Sound and Cliff as a kid and loved Adam Faith, Georgie Fame and the Kinks.
The Foundations and Four Tops were my favourite soul groups.

I also loved comedy. Jerry Lewis, Norman Wisdom and Frankie Howerd were my heroes.
Noah Fence: Recently, it seems that most of the world was celebrating the 50th anniversary of the Woodstock Festival. As important as that event may have been, as I see it it sort of ended the sixties as a whole. The promise of the "Summer of Love" generation never really carried into the seventies. In The United States, we had a recession, a gasoline shortage, and New York City declared bankruptcy in 1975. Can you describe what it was like in London in the early seventies, and how that may have lead to the start of Punk Rock in the U.K.?

Vic Godard: In the 70s, we were following Bowie, but when he did the switch to America we were a bit lost. Into this vacuum came lots of groups playing Berry, Diddley, Jimmy Reed and other R'n'B standards. We liked Dr Feelgood and The Count Bishops best, but went to see the Hot Rods as well.
Barry the singer was very nice to us, as was Lee Brilleaux. They didn't have much of an audience, so appreciated the regulars.
It seemed like everything was either completely free or absurdly cheap. You could lead the life of Riley on the dole. There was a post-war look and feel about London.  All public transport was free, unless you wanted to be honest or were loaded. We were in a group of people that had various interests, but looked quite similar to each other. It was after skins and suedeheads, but a lot of the style remained similar. The music was changing very quickly and the quality of music criticism very high. We were always looking at what was going on in New York and sometimes Paris seemed to know quicker than us. Andy Warhol's Interview appeared sporadically and there were glossy mags like Cream, which was generally awful but had some great writing in it. There was a great bookshop in Camden called Compendium, where you could find things you didn't realize existed.
Also you could buy rare 60's Bowie stuff from the most unlikely places, like an old hi-fi shop near Gunnersbury Station. Sweet shops sold new 45s from the past for a few pennies — like "Sweet Jane/Rock'n'Roll," George McRae, Al Green, and lots of stuff on the Atlantic Label. Before 1976, Punk meant U.S. sixties groups. We spent hours looking for rarities at Ted Carroll's Rock On stall in Soho. I remember a shop in Clapham Junction that only sold James Brown; I'd never seen so many records by one singer.     
Noah Fence: Subway Sect formed in 1976; please tell me how the band came together.

Vic Godard: Two of us were at school together from the age of eleven. We had no interest in playing music; it wouldn't have been on our wish-list. We wanted to play and watch football, but we were separate from all the others because we hated England and when we went to Wembley to see England v Germany, we were with our own supporters at the Germany end. Myers idolized Gert Muller and I wanted to be Gunther Netzer. We thought Bobby Moore was rubbish compared to the Kaiser (Franz  Beckenbauer).
We both loved Italy as well — they had Gianni Rivera and Gigi Riva (who played for Cagliari from Sardinia). Of course, when Chelsea were playing Europeans we wanted Chelsea to win. When Chelsea won the Cup Winners Cup in '72, it was in Athens, so we were too young to go, but they played in Slough when they came home, so I was able to touch the cup at the end when the fans ran on the pitch. I was all dolled up in my best tonic suit — me and Myers thought we were tasty geezers when we were 14! The third Chelsea fan to enter the mix was Rob Symmons, who joined the School in the Sixth form from the Local Comprehensive School.   
Noah Fence: I hope I am not off the mark when I say that the sound of Subway Sect has a New York sound or influence. I wonder when you might have heard bands, such as New York Dolls & Television?

Vic Godard:  We'd all got the Dolls LPs, but had to be content with reading about Television and the rest of the NY scene, mainly in the Interview magazine, which was flown to London outlets back then. I formed an idea of what they'd be like, which was totally blown away when the Ork single arrived in England. I fell for it massively, but it was nothing like I'd imagined them to sound like.
Elevation is the song that comes closest to their sound as I imagined it. The influence was so great that I bought my first guitar because of it. Up to that point, I'd been trying to write songs on the bass.  
Noah Fence: Prior to even releasing a single, the band toured with The Clash, as part of the "White Riot" tour. What was it like playing punk rock for audiences outside of London? There must have been some culture shock. Most of the audiences might only have known Punk Rock from the Sex Pistols appearance on the Bill Grundy Show.
Vic Godard: We were novices with 7 songs at the start. By the end, we were still novices, but had 12 songs. Usually the crowd were in the bars when we played, so we were lucky. Sometimes the crowd were there and on the odd occasion the crowd actually seemed to quite like us. This was a rarity though. Bernard Rhodes liked us because we were so unpredictable.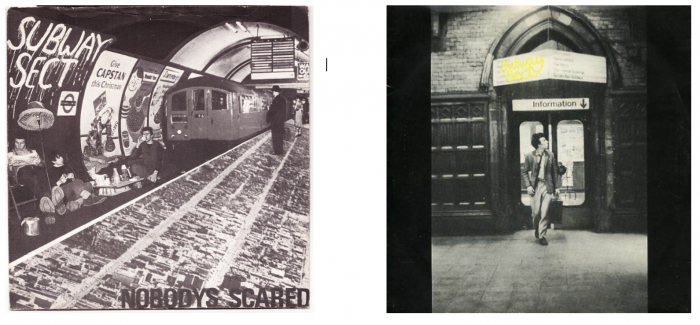 Noah Fence: The first Subway Sect single, "Nobody's Scared" backed with "Don't Split it," was released in the spring of 1978. I read that the recordings are actually from sessions for the John Peel's radio show. Is that correct? If yes, can you tell me how that came about and what you recall about those recording sessions?
Vic Godard:  We weren't in the loop about what happened with the tapes and how they became our single. It was like being let loose in the Music Room of a posh school. We didn't do music at school, so this was our first experience, so we wanted a go on everything. The BBC engineers were so good at their jobs that they made us sound acceptable and seemed to actually enjoy working with us. It was magical to us then and still is. 
Noah Fence: One of the questions that led to wanting to do this interview is, "what happened to the 1978 recording of the first album?" The tapes going lost make it one of those great mysteries in rock 'n' roll history. Someone must have made a copy on cassette. I am surprised that it has still never turned up. Plus, at the same time your manager, Bernie Rhodes, sacked the whole band. There must be a story behind all of that.
Vic Godard : The tapes were lost in a studio flood, so no point obsessing about it. Bernard thought we weren't serious about the whole thing, so he couldn't take it further. He was probably wise not to.

Noah Fence: The second Subway Sect single, "Ambition" backed with  "Different Story," came from the recordings of the first album, and both songs are stunning. In fact, along with the first single, the Subway Sect released two of the best Punk Rock singles ever released. "Ambition" was covered a few years later by The Jesus & Mary Chain; were you aware of that at the time it was released? What did you think of their version?
Vic Godard: I knew nothing about the cover version, but heard them many years later when I met Douglas Hart. He played me both their versions and I preferred both to our version.
Noah Fence: After a couple more albums, your music career takes an interesting turn. Word has it you retired, and became a postman for the Royal Mail. I have always wondered how that came about. Was that something that you fell into or was it a career path that you had decided upon and pursued?

Vic Godard: I'd always wanted to be a postman, but when I saw the film 'Diva,' I knew it was the job for me and it was the best decision I've ever made. I was a bit shy and sullen before I became a postman. That job really was the making of me. I'm so glad I've retired though, as the job kills people: literally kills them — I've seen it many times over the course of my career.
Noah Fence: In the late seventies, I was living in a small rural area just east of Monterey California, Carmel Valley, and I did not have access to a lot of Punk Rock at that time. Before the internet, it was much more difficult to hear about or purchase records. I was only later familiar with the band Subway Sect as one of the original Punk bands that toured with the Clash. It was just a name, I never heard any of the music. That all changed in 2007, when you recorded and released the album "1978 Now," which was songs from the missing album, recorded in the same style as they would have been back in 1978. Brilliant album. Only proving what a tragedy it is that the original album did not come out in 1978. Can you tell me how this project came together? 

Vic Godard: It all started where I live. Two of the audience members at a Billy Childish gig in Richmond asked me why I didn't play anymore and I said I don't have a group available so they volunteered. Neither could play much so we had to be punk. From this, we started playing lots of local gigs and I had the offer of a free studio in Kingston. Mark Laff re-joined to do the drums.
Noah Fence: Since the release of "1978 Now," you have been fairly busy releasing music, touring, collaborating with the bands Sexual Objects and The Bitter Springs and playing sessions for Marc Riley's radio show on BBC6. I suppose you must have quit being a postman at sometime. What led to the decision to pursue music full time once more?

Vic Godard : I had no choice due to family commitments and had to become full-time career overnight. So full time music is not what I do – I look after my dad who has just turned 98! I do music whenever I get a chance though. Its a big release for me-a bit like going to Chelsea in the 70's.
Noah Fence: I am sure you are aware of some of the recent memoirs that have been released by people involved in Punk Rock and Post-Punk, chief among them is the book by Viv Albertine from The Slits, "Clothes, Clothes, Clothes. Music, Music, Music. Boys, Boys Boys," which makes me wonder if you have ever considered writing a memoir. I think the world needs people such as yourself to write about their firsthand experience. Otherwise the history of Punk Rock will be left to the journalists that experienced it second or third hand. 

Vic Godard:It's a bit tricky for me as I've written a few hundred pages but I'm always too busy. Maybe one day when I retire myself. That's the perfect time for it.I love Jah Wobble's tome so I would hope to be able to get something printed if I put in the work!


Noah Fence : Thank you very much for participating in this interview. I hope it was an enjoyable situation for you. 

Vic Godard: Cheers, Noah Fence — none taken !