Valerie Wilmer was born in Harrogate, England Dec, 7th 1941. She is an English woman, photographer, jazz/African, Jamaican West Indies music historian/archivist, writer, lesbian and feminist. She has written for Jazz Journal, Mojo, The Wire, Jazz News, The Oxford Dictionary of National Biography, The British Library Sound Archive and The Guardian, as well as many other jazz/music publications. She is the author of Jazz People (London: Allison & Busby, 1970; Indianapolis: Bobbs-Merrill Co., 1970), The Face of Black Music (New York: Da Capo, 1976); As Serious as Your Life: The Story of the New Jazz (London: Allison & Busby, 1977) and her autobiography Mama Said There'd Be Days Like This: My Life in the Jazz World (London: Women's Press, 1989).
Wilmer and her brother Clive were raised by a single mother, who rented rooms from their London house to pay the bills. Wilmer's mother was supportive of her blossoming interests in jazz music which began in her teens with the book by New Orleans Jazz enthusiast and radio deejay Rudi Blesch, Shining Trumpets: A History of Jazz. At a young age, Wilmer immersed herself in jazz and African American/international music culture before it was embraced by mainstream culture. She frequently brought home jazz musicians who were mostly male, black and international to have tea with the family, and, as a result, the house soon became a known jazz performer destination in London to visit while on tour. Harry Carney, who played baritone sax with Duke Ellington's band, sent them Christmas cards every year. Jazz pianist Randy Weston would stay over to talk about Africa and Nationalism while eating a breakfast of bacon and eggs. The Ambassador for Liberia invited her mother to champagne parties (Neglected Books, 2016).
Wilmer's life as a white female gay critic in the 1960s and 1970s juxtaposed the conventional media coverage of race with the empowerment of people of color and women as captured through her personal lens. The early women's liberation movement then flourishing in the United States also influenced the U.K., and Wilmer became politically involved with women's empowerment, organizing Take Back the Night events in the late 1970s in London to bring awareness to sexual violence perpetrated upon women. Wilmer realized she preferred women sexually when she witnessed Althea Gibson, the first African American woman to play in professional international tennis, embrace her opponent in good sportsmanship at Wimbledon. Wilmer was never deterred when private lesbian clubs she visited were occasionally raided by vice squads because she felt it was her right to have access to such clubs without discrimination or shame:
. … because what we were doing by walking through that door was declaring ourselves — what some would call "coming out" — there was about the whole exercise a sense of terrible excitement. It revolved around bravado and ritual. Getting ready to go there was a ritual, the crease in the trousers, the eyes made-up just so Parking the car was a ritual, as near to the club as possible to avoid the voyeurs and the challenge of passers-by. Gaining entry meant mustering bravado. And for what? To spend time in a place where you could, supposedly, be yourself. 
Wilmer has lived her life always being herself and actively pursuing what interests her the most. She took her first photograph documenting Louis Armstrong with her mother's Kodak Brownie camera and soon afterward pursued an education at The Regent Street Polytechnic in London, with a dual degree in jazz photography and writing. Her photographs have been shown in galleries in Europe and the U.S, and she co-founded the first all-woman photo agency in London, Format, in 1983 (The Jazz Image).
Wilmer has been documenting jazz artists and music history since 1959. She has countless interviews and photographs with jazz greats, beginning with Earl Warren, who was an alto saxophonist and sometimes vocalist for Count Basie and Lester Young. Her reputation as a serious critic grew following her piece on Billy Higgins and Ornette Coleman. By 1965, she was visually documenting Thelonious Monk's progression through his changing improvisation and composition styles while critiquing the past decade of his career (Wiki).
My favorite book by Wilmer, As Serious As Your Life, first published in 1977, documents the early scene of "free jazz", or "new jazz," in various urban areas across the United States. It is a seminal text that chronicles the groundbreaking beginnings of what would soon become known as the Free Jazz movement.
Wilmer interviews such innovators as Sunny Murray, Sun Ra, Cecil Taylor, Rashied Ali, Albert Ayler, Bill Dixon, Archie Shepp, Marion Brown, and Don Cherry, to name a few, all of whom changed many conceptions of what "jazz" music is. She interviews jazz musicians who performed at community places, such as The Storefront Museum in Jamaica, New York, which was a converted storefront and community project in the borough of Queens. She talks to Milford Graves, an innovative free jazz drummer, comparing his compositions to the compositional brilliance of Terry Riley, and the British gay painter, David Hockney.
Wilmer's critical comparisons often mirror the artists she is interviewing, comparing and contrasting other fringe musicians. She often combines descriptions of musical virtuosity with visual artists, to better display the dynamics of hearing free/new jazz in three dimensional concepts, to help her readers conceptualize their expansity. Wilmer appears to always be fully present in her writing about jazz or music history, portraying jazz artists in their natural environments and contextualizing the aspects of jazz intellects.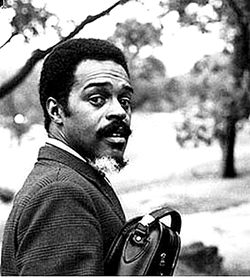 The label of free/new jazz was often condoned by the jazz musicians who were making the music, but the concept of categorization is typically based on paradigms created by white patriarchal institutions. Thus, one can argue that categorical terms like "Free/New Jazz" may limit the audience. Unfortunately, the concept of categorization is often needed to relay a style or period to draw context for readers because of the established dominant discourse of labels. The Art Ensemble of Chicago explain, "It is whites who have called our music 'free,' we just call it music". The Art Ensemble of Chicago were part of the Association for the Advancement of Creative Musicians (AACM). AACM became an established group in 1965 by pianist Muhal Richard Abrams; Jodie Christian; drummer Steve McCall, and Phil Cohran.The AACM was composed of four to five creative musician groups who based their creativity on maintaining their own rights and self to their music. They paid minimal dues to AACM and played concerts at different venues or places in Chicago. Cohran was a band member in Sun Ra's Arkestra, playing trumpet for Ra from 1959-1961, until he left to pursue his own form of spiritual jazz. As Wilmer explained in As Serious As Your Life, many AACM members had always focused on the progression of jazz but some members felt Sun Ra had progressed too far out. After time, these members went to New York to seek out Sun Ra to tell him "yes" to his music, after Ra had left AACM (Wilmer, 1977).
Wilmer's photographs are mostly taken in black and white. She used a 35mm Pentax Silverline and would wait backstage or in the audience, before or after interviews, or on the sidelines for the perfect shot. Wilmer is a master at manipulating light to contrast the artists she is capturing. For example, referencing the Sun Ra photo Wilmer took in 1966, we see Sun Ra and his Arkestra in deep concentration. The group was living communally at the time, maintaining a regimen of creative cohesiveness that was rooted in the cosmic realm of Ra's psyche. The light that plays on Ra's sequined cloak shines and morphs into shadows on his right side, downplaying his eloquent genius. Marshall Allen stands to Ra's left, playing oboe and complimenting the photo's chiaroscuro lighting with infinite dimensional sounds that are heard by Wilmer at that moment, suspended in time.
Wilmer is in every sense as important as the musicians and music she has documented. Music criticism is often told from the standpoint of the critic, who is usually a white male, and the criticism can be construed as flat, lacking compassion and mostly based on the judgment of the white male critic's taste or bias. Sometimes the white male ego is accentuated in their writing, and often the emotion behind the critique lacks any form of humanism or compassion for exploring compositional pieces that are dynamic and rooted in the creative heritage of the artists they are critiquing. Wilmer is a transcriber: she writes what the musicians "tell" her, and she portrays musicians in their spaces, places and mindsets, while not impinging upon their creative narrative. She spends time with the people whom she admires, and the time she spends adds increased depth to her prolific photographs and writing.
By Karen Lee (Weekend Family Music Hour)