In Part One, I briefly touched on the fact that for a time, Instrumental Rock was the pop music of the era. That era was a few brief years in the early 1960's, before the British invasion reminded American teenagers about the rock n' roll music they had basically invented, but for whatever reason had forgotten or abandoned.

For many people, instrumental rock is synonymous with Surf Rock, which is understandable. This same time period of the early 1960's teenagers were bombarded with a seemingly endless stream of "Beach Blanket Bingo" type movies for drive-in theaters, with moving pictures to show that it was always sunny on the beach, and with your best girl at your side dressed in a scantily clad bikini, you could dance to the twang of the guitar and bongo beat all day and all night. Surf music carried with it the promise of some out of reach teenage heaven.
The band that carried the promise of surf music better that all others was the Ventures. They had an extremely long career, well beyond the top ten popularity of Surf music (I am happy to say that I saw the band perform live in the late 80's at a county fair). The band managed to survive so long by releasing albums that felt reasonably current. They hit upon that idea of having themes for each release, the theme being based on a popular song or trend at the time of the recording of the record. The band would record a few cover tunes, a few original songs based on the covers, and voila, they would have an album. This process lead to such albums as Play the Country Classics, Twist with the Ventures, The Ventures in Space and my favorite from 1966, the Ventures, on which they perform versions of the Batman theme, the theme to Green Hornet, a few TV secret agent themes and a handful of delightful instrumentals.
Being a form of instrumental music, surf music was easily translated to and embraced by other cultures, chief among them Japan. Surf music and the Ventures were especially popular on this island country. This musical form gave inspiration to not only the best surf guitarist in Japan but one of the best guitarists to strap on a guitar, Takeshi Terauchi.
Using the name Takeshi Terauchi & Blue Jeans, he released a self-titled album in 1966 which was reissued in 1971 titled Let's Go Eleki-Bushi.
Featuring the lead track "Tsugaru Jongara Bushi" this album is an amazing musical example of an American idiom being adopted by another culture. Somehow despite the fact that there are only so many notes on a guitar, this album manages to have them played in such a way that there is a distinct Japanese feel. Music is magic in this way, like a translation of history or culture through sound.
With the Mid-60's, teensploitation movies moved away from innocent teenagers grooving in the sand to a more rebellious example of archetype angst, motorcycle gangs. One of my favorites of this genre of film, is The Wild Angels, with soundtrack music by Davie Allen & The Arrows. He embraces surf music, but with his heavy distortion to the guitar tone gives the music an urban, often dangerous feel.
The 1967 album Blues Theme is one of his best.
Despite the fact that instrumental rock waned in popularity in the late 60's, the music continued to be popular with record collectors over the years, which gave rise to a late 80's early 90's revival or re-discovery of instrumental or Surf Rock. One of the best of the Surf revival bands is from right here in Portland, called Satan's Pilgrims.
Their 1994 debut album At Home With was a breath of fresh air in a post-grunge, overly angsty rock era. Their three guitar, all instrumental set up, quickly became my soundtrack for that year.
Lastly for this piece, an album from 1982 that reminded me that instrumental music was more than simply surf music, and you could dance to it.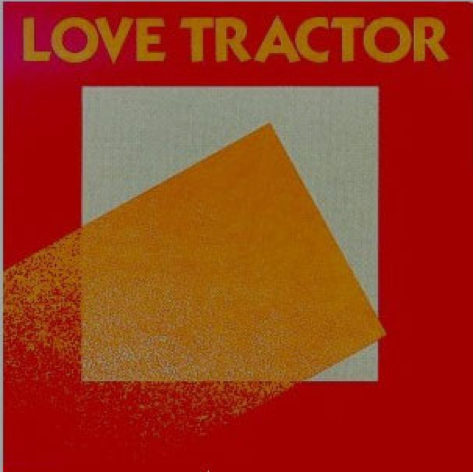 The debut album by the Athens, Georgia band, Love Tractor.
For me, this album is subtle, a grower, one that I have returned over the years and well embraced. With songs such as "Seventeen Days" and "Fun to be Happy" (often covered by The Feelies) this is a lovely record with an interesting mix that perhaps plays down the guitar interplay at first. It is worth repeated listens to unlock its treasures.